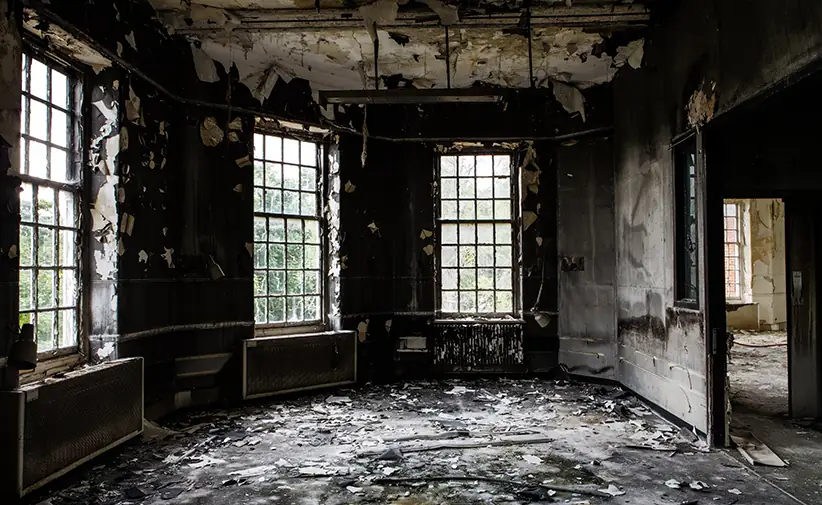 October 9, 2023
What is Smoke Damage Cleanup?
Smoke damage cleanup is a specialized process aimed at removing soot, ash, and smoke odors left behind after a fire. It involves a series of steps that include an initial assessment, thorough cleaning, and restoration of the affected area, ensuring the elimination of hazardous residues and odors to make the space safe and habitable again.
In Worcester County MA, Hampden County MA, and Hampton County MA, Lilly's Restoration stands as a beacon of hope and renewal amidst the devastation caused by fire. Equipped with specialized tools and expertise, we are committed to transforming damaged spaces into clean, safe, and welcoming environments. Smoke damage cleanup isn't merely about aesthetics; it's a comprehensive service that underscores safety, health, and the structural integrity of your property, ensuring residents can confidently reoccupy their homes and businesses.
Evaluating the Smoke Damage
Smoke damage is multifaceted. According to the National Fire Protection Association (NFPA) (source: nfpa.org), the types and extent of damage can vary, influenced heavily by the nature of the fire, materials burned, and the duration of exposure. For property owners in Worcester County MA, Hampden County MA, and Hampton County MA, understanding this complexity is the first step in navigating the aftermath.
Professional assessment is key. Companies like Lilly's Restoration, armed with expertise and technology, embark on a thorough investigation of the extent of damage. Beyond the visible soot and charring, there's the invisible yet perilous residue that lurks on surfaces, in air ducts, and within structural materials.
Smoke Residue and Odor Elimination
The Institute of Inspection, Cleaning, and Restoration Certification (IICRC) (source: iicrc.org) underscores that not all smoke damage is visible. Invisible residues can corrode, stain, and emit odors, exacerbating health risks. Worcester County MA, Hampden County MA, and Hampton County MA residents can count on Lilly's Restoration, which focuses on both the visible and invisible aspects of smoke damage, ensuring a comprehensive cleanup.
Methods like ozone treatment, hydroxyl generators, and specialized air scrubbing technology are integral in odor elimination. Removing soot requires professional-grade equipment and solutions, tailored to the type and extent of the damage.
Safety First in Cleanup
Safety is paramount in this process. The U.S. Fire Administration (source: usfa.fema.gov) outlines that soot and ash residue can be harmful to health. Every cleanup, especially in a region as dynamic as Worcester County MA, Hampden County MA, and Hampton County MA, should prioritize the health of the occupants. Lilly's Restoration's process is anchored in safety, ensuring that every cleanup is thorough and adheres to the highest standards of health and safety.
Every service is conducted with the utmost precision, utilizing personal protective equipment and technology that ensures the safety of both the technicians and the property occupants. Lilly's Restoration transforms a site of devastation to a clean, safe, and welcoming space, ready for the reconstruction phase.
How Do We Help with Smoke Damage Cleanup?
When disaster strikes, Lilly's Restoration is the ally you want by your side. In the midst of uncertainty and damage, our expert contractors provide assurance through professional smoke damage cleanup services. We are the experienced, reliable hands that Worcester County MA, Hampden County MA, and Hampton County MA residents have trusted for years.
Our process is meticulous. It begins with an exhaustive assessment to understand the extent and nature of the damage. From soot removal to odor elimination and sanitation, every step is executed with precision and care, adhering to the strictest safety protocols.
We are not just about restoring your property; we are about restoring your peace of mind. At Lilly's Restoration, every service is a blend of technology, expertise, and compassion. As you navigate the aftermath of the fire, our expert contractors are equipped to handle every aspect of the smoke damage cleanup process, delivering a service that not only meets but exceeds expectations. In the heart of every disaster, we are your beacon of hope, restoration, and renewal.
Call now for a free consultation.
Lilly's Restoration
(413) 213-3980
Homepage:


https://lillysrestoration.com/
Facebook: 
https://facebook.com/lillysrestoration
Chamber of Commerce business profile: 
https://business.worcesterchamber.org/list/member/lilly-s-restoration-35397
Chamber News Release:
https://business.worcesterchamber.org/news/details/navigating-the-aftermath-a-smoke-damage-cleanup-assessment-guide-10-09-2023

Worcester County, MA
Hampden County, MA
Hampshire County, MA